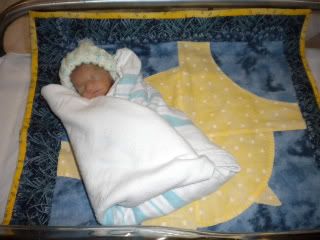 Our son Jackson Jeffrey just before he went to be with the Lord
.
My Dearest Friends,
I am at my parents on their computer and wanted to post a comment to you all.
Doug and I are feeling very lifted up right now and words cannot describe how much your love and prayers are keeping us held up right now. Our grief is great and we're still trying to understand everything but have found refuge and strength in God even when we do not understand.
Here's some things I wanted to share with everyone:
I went into early term labor because I was found to have Bacterial Vaginosis (BV) as it's called after the accident in September which caused me to lose my mucus plug. It wasn't caught until it was too late by medical staff, but even though Jackson was healthy and where he was supposed to be at his gestational period, my cervix was comprimised and thus allowed the amniotic sac to bulge through breaking my water.
Although our dear sweet Jackson wasn't ready to come so early, He bravely came when the time came.
I had the birthing experience I wanted. ALL NATURAL absolutely NO DRUGS even though they kept pushing morphine on me to relieve the pain knowing Jackson wouldn't live. I labored Wed. at 230pm until Thursday at 5pm. A total of 26 1/2 hours of full back labor. Jackson was born at 5pm on Thursday and lived for 25 minutes when he passed at 525pm.
His apgar score was excellent for where he was and we were told usually in these circumstances babies are born already having passed. Not our boy! He braved through a breach birth only having a swollen right eye....and while his lungs were too weak to cry, he moved his mouth and head, heard each word we were saying and even held my finger with his tiny little hand.
He weighed in at 13 ounces and was 11 1/2 inches long. He was VERY tall with long legs, a long torso, Big feet like daddy's and big hands. His nose and mouth were also like daddy's. Spitting image of Doug as soon as he came into my arms only having MY spunk and personality.
God gave me the opportunity to birth the way I wanted and gave Doug the honor of cutting the Cord. We spent 25 blessed minutes with our son and are greatful and honored to be Jackson Jeffrey Shearer's parents. He is a brave little soul.
All I ever wanted for him was to be a light in this dark world and to know the Love of Christ. I believe Jackson has done both in the short time he was here. As he took his last few breaths, I said to the Lord, "
I give my sons spirit unto you Lord"
and to Jackson, I said, "
Well done good and faithful servant"
.
I am forever indebted to God for our beautiful little miracle and though God loved him so much he wanted Jackson back, we are glad for the time we had with him and as my Aunt Lori said to me, we HAVEN'T LOST Jackson. We know where he is and he'll be waiting for us.
So now, we're trying to mend our broken hearts. There is a piece of both of our hearts that went with jackson on Thursday at 525pm. I'm not really sure HOW we'll mend. Only God truely knows that. But we feel the hand of God in our lives. SO MANY of you have come to our side in prayer, with compassionate hearts and even with giving hearts. Our burden seems lighter having so much support by friends, family and even those we've only met here on the net. Our cup TRUELY runneth over and God is working through each of you in order to help us move forward without Jackson Jeffrey.
We STILL need your prayers. Having given birth and going through all that mothers go through and all that fathers go through emotionally with helping in the birth experiene and cutting Jackson's cord and seeing that his son looks EXACTLY like him, well, it has left us at times, when we are home with time to think (especially in early am hours) that we are missing someone. We have gone through it all and yet Jackson Jeffrey isn't with us. God knows the reasons and we are not questioning Him, but we are asking Him to give us strength and we are giving Him thanks for the opportunity to be not only parents, but Jackson's parents.
We are STILL parents. Unfortunately we have to do what many parents dread and that's having to prepare to bury their child. His sweet body is here but we know His spirit is in heaven with Jesus.
In the end. We just want to thank EVERYONE for the outpouring of support and to let you know that while our hearts are very broken right now, God has given us the blessed opportunity that we've always dreamed of. I got my natural birth, and my son. Doug had the opportunity to cut the cord, see his son and we both had the opportunity to see our son ALIVE. Which is more than some have.
I attribute all of this to Gods great lovingkindness. If I had taken the medicaton the nurses offered, Jackson wouldn't have been so alert or maybe would have even parished before we saw him. God gave us that time and we are forever grateful.
Thank you again, from the bottom of our hearts and please continue to keep us in prayer as we bury our son this upcoming week.
Love to you all
Rebekah and Doug