Well hello everyone!
It certainely has been awhile since I've last posted. We'll soon be moving and things are starting to get exciting now. While we're not moving into a home of our own (not because we haven't tried, but because we haven't found a home that fits our needs for the price range we're looking for) we certainly found a rental that's in a nice area and is not only economical, but will allow our dogs, has 3 bedrooms and is just beautiful with cabnitry and even a two person sink for the bathroom. Definately the hand of God.
I can't wait to get the baby's crib up and start decorating the room. Not only will I be decorating the room, but also getting everything settled again. Ah, but it will be SO NICE and less stressful than living with folks. We'll try looking again next year to see if we can find something we like.
Now onto the updates:
I am now 18 weeks and 4 days pregnant. I still can't believe this has happened after 8 years without fertility drugs. Just God and HIS timing. Now that I CAN believe.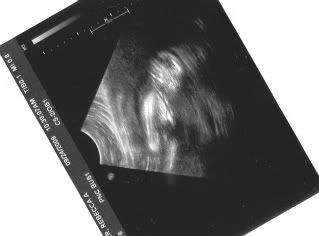 our baby enhanced. The sonogram is to the side because the baby was headfirst down. Still can't tell if we're having a boy or a girl, but we're just happy we're having a BABY.
We went in for an anatomy sonogram with hopes to find out what we were having last Friday. After deciding we didn't want to know in the beginning, the more attatched I become to this little one in my belly, the more I'd like to know just whom is "knocking at my door". It's been SO HARD to buy neutral clothing. I have a few cute outfits, but either I find too boyish or too girlish.
As they started the sonogram we heard the heart rate which is now lower than it was in the first 10 weeks or so. It was 147. That sound is SUCH a blessing to hear each time. It's such a miracle to know that God is helping me grow something inside my body. Makes me tear up everytime.
The sonographer got to measure part of the spine and arms and legs, but couldn't get everything like the brain and such. Our baby is head first down. So measuring the head was almost impossible and the legs? They were crossed.
Those who were praying the baby would cross their legs were Extatic. NOW I have two grandmothers who are disappointed and one great grandmother who is waiting to find out what we're having. We called all the parents and Aunties to tell them...We had the sonogram and we're .......having A BABY!
Many thought we were intentionally keeping the sex of the baby from them, but in fact, we honestly DON'T KNOW.
Just like God to keep EVERYTHING a surprise. We shall see if we see anything come week 22.
****On another note, I had a scare last night. We were riding in a car with someone and they kept slamming on the breaks extremely abruptly. I felt something odd and Doug had them pull over so I could have a bathroom break. I started to panic when I saw huge amounts of mucous coming out and had to call my sister in law for answers. After she calmed me down, we got home two hours later and I spoke to the Dr. on call who thought we were ok and asked that we call on Monday to check the cervical mucus and make sure the baby is ok. Doug as an RN checked my belly and all seems to be well, this may be something normal, but I don't know what "normal" is
.
Baby weighs in at 7ounces and is right on track for the most part though. I can't express how joyful we are.
It will honestly be nice to have a place of our own to enjoy this pregnancy together in privacy, but we ARE grateful for those who have helped us.
We should be online again regularly by the end of October. We pray all is well with our dear friends and I look forward to sharing more of our pregnancy soon.