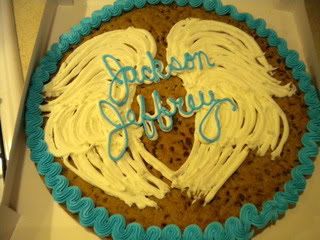 Today is my due date. The day Doug and I had dreamed for quite some time. Instead of dwelling on the crushed hopes and dreams we had for Jackson Jeffrey, I decided I wanted to celebrate something. I didn't just want this day to go by. However, I also know that even though he's not right here….there IS something to celebrate. The fact that one day Doug and I will be reunited with Jackson in heaven and be able to share our love for our Lord together.
In honor of our dear boy, I had Mrs. Fields make a cake with angel's wings. It came out beautiful! Then We had a few balloons made and I added Jackson's name, REAL birthdate and if found, our address. Then we let the balloons sore into the sky. It was a beautiful site.
One Red- To celebrate our unending love and Gods unending love for US
One White-representing Jackson's trip heaven-bound
A Gold –representing Doug, Bright Green for Mommy (me) and baby blue for our darling boy. Which we tied together and sent up to represent our eternal bond thanks to Jesus Christ.
It was a bitter-sweet moment for Doug and I. To let go of our hopes and dreams for Jackson here on earth, but to have also found a sense of peace because through our Hope in Christ we WILL see our son again. He IS alive. He's just in Heaven.