This morning is another milestone. 8 weeks.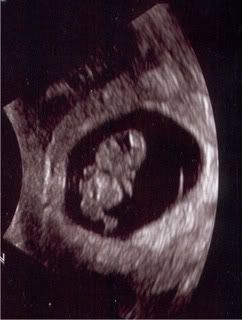 our baby at 8wks 3dys
Today we were off site at another part of the medical group so that I could get a sonogram done (the regular high risk OB's in house sonographer broker her arm). Today I had another pelvic sonogram with heart monitoring. I could see the baby MUCH better this time, also saw the yolk sack too. Baby's heart rate was 174 and he or she is doing quite well. What took me by surprise was the babys cute arms and legs forming along with his or her heart. Uh, my cup runneth over!
We're giving all the glory to God for this little miracle. Praise Him for His loving-kindness and protection on our little darling.
Still no REAL sickness, but I notice more and more I'm feeling nauseous just after eating. I'm enjoying this pregnancy and all it comes with. I do NOT take for granted what God has blessed me with and thus am praising Him for every part.
Mom and I went to the outlet mall. She was so kind. She bought me one of my first maternity outfits and when I went to buy a gender neutral outfit to celebrate my sonogram, she said, "well if your going to buy one, then I'm going to as well". Haha she's already a doting new grandmother.
Another sonogram will be done in 3 weeks. Almost around 11 weeks. I continue to Hope in the Lord, that He will keep our little one safe and help him or her to grow while developing into our precious little one we'll soon meet in February sometime. God is so good to us!